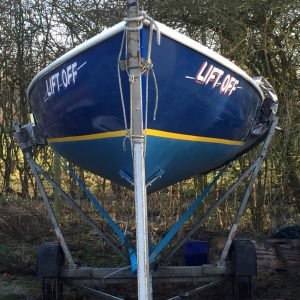 The slider tells the story of my afternoon today – sunshine, blue lake, boats sailing, fabulous views.  Good to catch up with John and the Bosun and see folks enjoying a sail.  Very, very tempting to launch Time Flies and catch a quick sail – but we were here to sort out Lift Off, duty called 😉
Spent a very pleasant couple of hours with John Cranwell Ward at Rutland Sailing Club today, mainly to relocated Lift Off who returned home early after her refurbishment work to her decks and hull – looking better every time we see her.
You'll see some of the work  done on the hull (anti fouling and new boot top (the yellow line) applied.  Inside the new seats have been fitted to specification and under deck plumbing fitted both sides of the keel, with a through floor riser ready to connect to a hand pump.  The new mast heel is in the boat ready for fitting and of course the spanking new floor.  Thank you very, very much John Laxton.
After a few pics of Lift Off to capture the many improvements, we moved her to her new location to await the next stage of her refurb – rigging and mast stepping.
Other pics include the views at the club today and a few on my way home.