Well that was a really exciting sail!
A real pleasure to sail with RCSSC member Jo Collinge on her first sail of the season and have my old friend Alan Bannister, join us too.
The wind proved to be 'livelier'  than expected at F4-5, nevertheless we enjoyed a wonderful sail together, in the southern leg of Rutland Water.
Lots of boats on the water to catch our eye too, the Flying Fifteen and KI Open, a coaching day for catamarans, fleet sailing too with lots of Kinsmen out on the water.
We launched late morning circa 11:30  with dark clouds gathering behind the clubhouse and heading our way.   Delaying sailing to allow the heavy weather to pass by and then setting off to catch the great ' breeze' F4-5  sailing at speed up the lake into the wind. It's true, Squibs really do give an exciting sail.
It was Jo's first sail this season, after we had established the bow is the pointy bit at the front and the straight bit at the back was the stern it all came flooding back and she was soon tacking the jib like a professional racer, balancing like a sailor, even with the boat healing and water on the gunwale, she had a smile from ear to ear – well done Jo!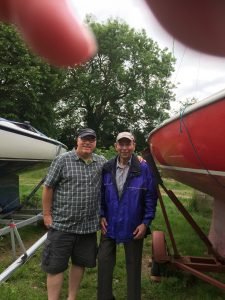 On a personal note, Alan (74) a long time friend, made my day by agreeing to join us for a sail and took it all in his stride – 'if you're happy to sail Dave, I'll sail with you' – all proving its never to late to sail.
In short, a good time was had by all.
Sailing in good company.