As I could see winds were only going to get stronger followed by heavy rain this Thursday I braved the strong winds yesterday and went down to the club to finish painting the cockpit floor on Time Flies.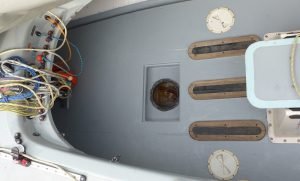 International Interdeck has been applied, this is a specialist marine anti slip polyurethane deck paint. My joints aren't as flexible as they used to be and it's an absolute so and so,  to be half kneeling, half lying down painting that floor.    You have to do stern and bow sections first then slowly extract yourself as you get to the centre section without getting paint all over your shoes and clothes and without steeping on the parts just painted!    Novel being on the boat whilst it is being shaken by the winds even though parked on its trailer!   Applying the top coat took 2 hours yesterday and was I relieved to stand up! The floor has now had 12 hours labour spent on it between John Laxton and myself.
I also noticed four weeks ago that the supporting port hand plank that was holding the wooded guiding plank that allows the keel to slide onto its keel support bracket had rotted and fallen off presumably one day when we launched as there was no sign of it.    Mike has kindly supplied a new plank, cut to correct size, sawn off the old rusty nuts and bolts and supplied and fitted new nuts and bolts and yesterday drove from Crowland to fix the new plank in place.    Thank you very much Mike.   Much appreciated.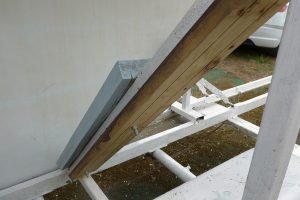 Whilst all this was going on an alert went out to the club from Oakham Police that a suicidal schoolgirl from Oakham School had threatened to commit suicide by jumping off the rocks surrounding Normanton Church and could RSC do a complete lake search. Malcolm and two others set out in three ribs searching from the church up to the dam in four foot waves. They then did a complete search of the lake supported by ribs from Whitwell. They couldn't find her and came back absolutely drenched as they had no waterproofs on. Pupils from Oakham School with bikes cycled around the lake looking for her. Police eventually found her OK besides the railway line in Oakham.
all the best
John