RCSSC BOAT HUSBAND ISSUES SPIDER EVICTION NOTICE 
Mike and I spent the day at the club yesterday doing routine maintenance on the boats and trailers.
Besides a number of standard checks we had planned to remove the long term spiders web from the top of the Soling's mast.  That pesky spider has been in residence for at least a year and the web had prevented the windex from operating in light winds.
So Mike and I devised a devilish scheme with poles and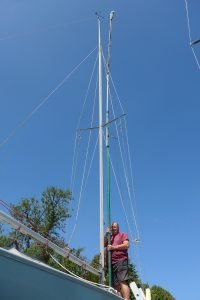 bamboo sticks and a feather duster to avoid having to lower the mast. In the end it took three separate attempts using various bits of kit we obtained from around the site and from the Bosun's shed.
A picture is often worth more than a thousand words so please see attached images. Web successfully removed.
Yes John, but where is the spider now?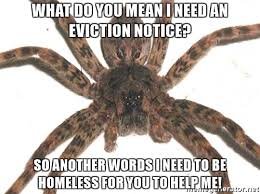 Satyr – Boat Husbands Update
We also took apart the jockey wheel of Satyr which had become very difficult to wind, we had thought possibly needing a new jockey wheel.  We had applied liberal amounts of grease to the inside tube and screw quite recently and we went through that process again and and it now seems to be working smoothly. I think the grease gets partly washed away every time we launch.
I have re-routed the main halyard on Satyr as I had noticed when I last sailed her that it was difficult to pull up.  The halyard now comes out of the mast just under the coving and attaches directly onto the cleat attached to the mast under the deck.  The main halyard no longer routes to a block attached to the cockpit floor.