We Are Back!  Monday 29 March 2021 was our first opportunity to visit RSC following Covid-19 Lockdown. With the sailing season starting on 1 April 2021 we needed to step the masts on our two Squibs: Satyr and Lift Off and check out our Soling Time Flies – ready for members to sail.
Dave, Eric, Mike and myself ( John Cranwell Ward [JCW]) attended the club on its first day of re-opening after lock down was imposed in November 2020. We were amongst the first members to arrive at 0930 on March 29th the first day of the long lockdown easing. As Boat Husband, I was a a little apprehensive re the condition of the boats as we haven't been allowed on the site since November 2020.
We set to by first removing the winter covers from all three boats, folded and stored them. We moved the Squibs under the gantry using the newly acquired Rutland Sailing Club (RSC) members' only tractor. (first to use it!).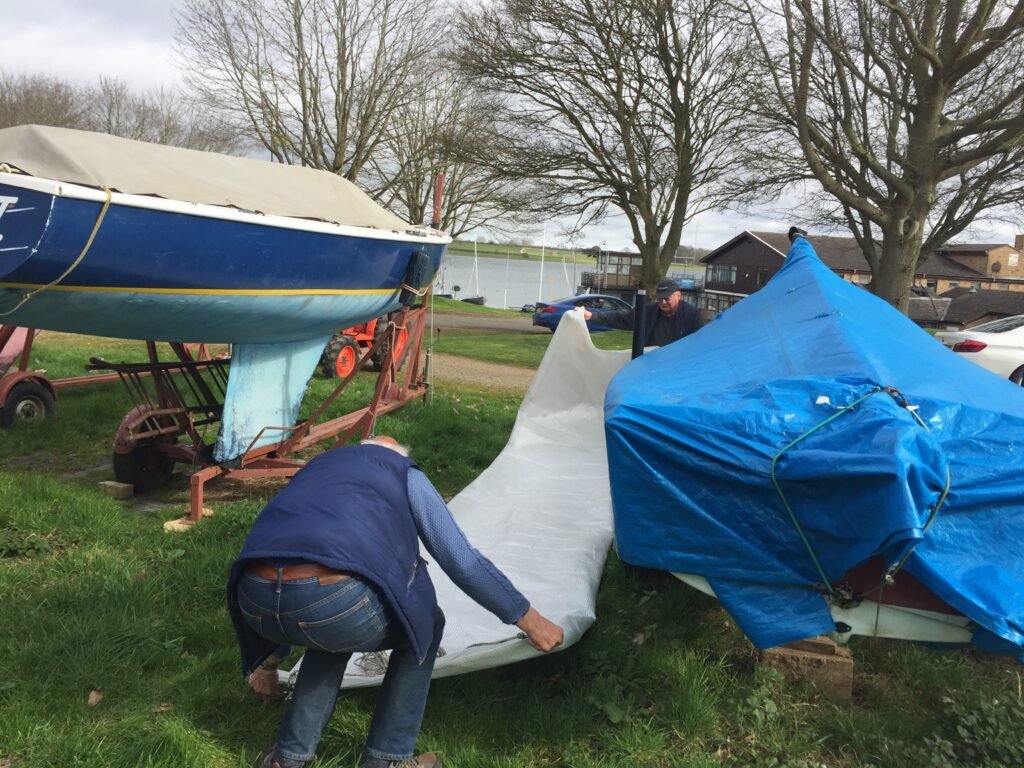 Dave and Mike recovered both masts from their winter storage whilst maintaining social distancing! One at one end of the mast and the other at the end – well over 2 metres! The next step was to fit and align the boats windex and step the masts on Squibs Satyr and Lift Off.
The next step is to sort the rigging. We attached the shrouds, backstay's, forestay's, and run the control lines through their fittings.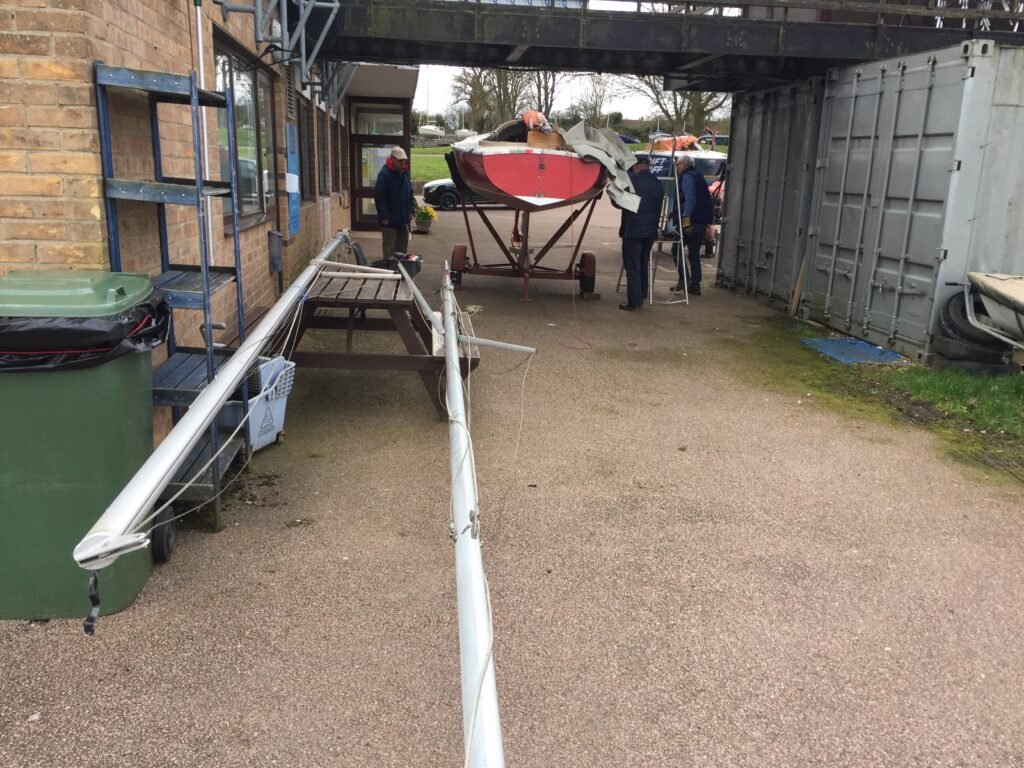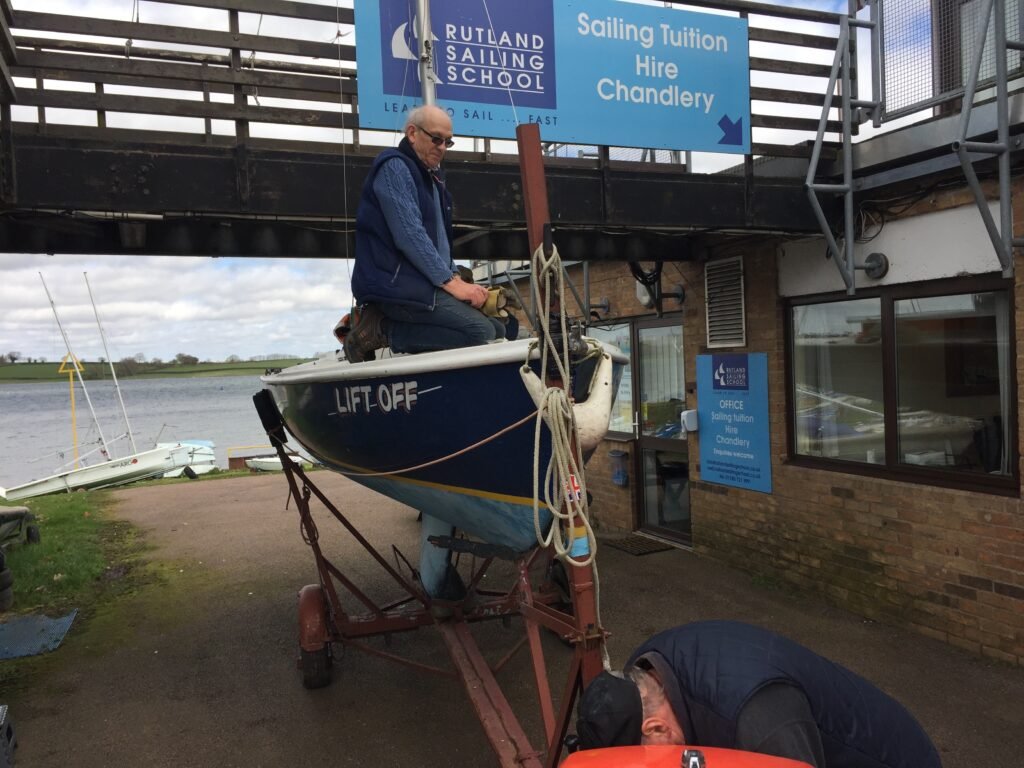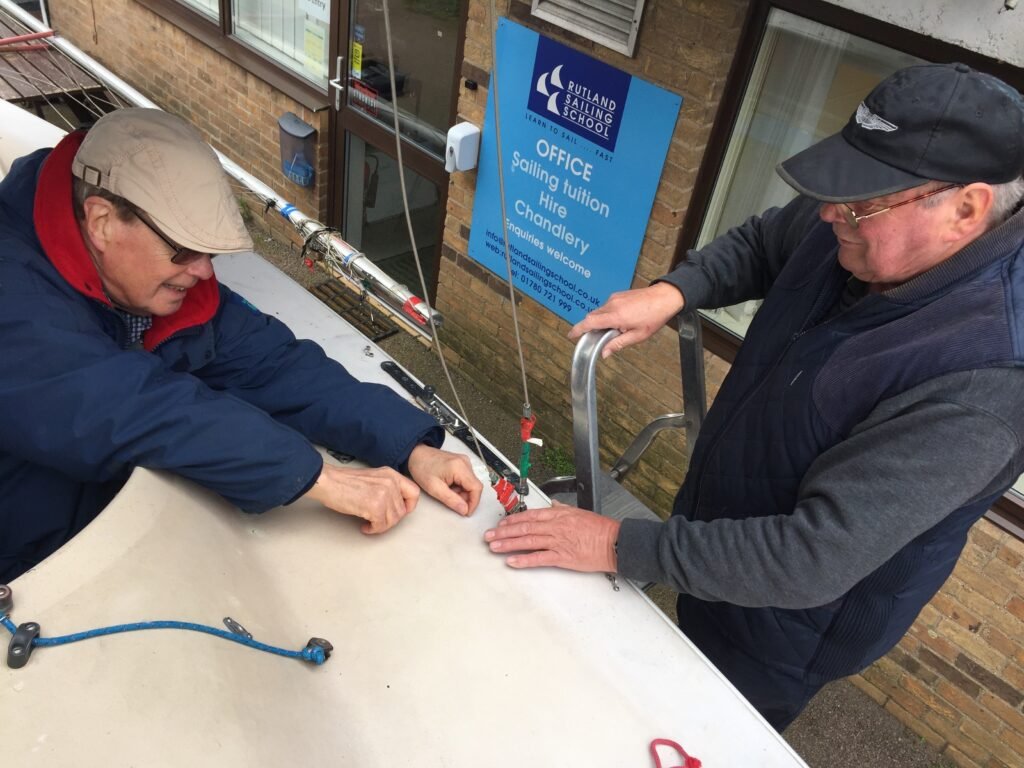 Eric and Dave agreed to sort the Squibs, leaving Mike and myself (JCW) to sort Time Flies.
Lift Off had a couple of gallons of rainwater in her rear tank, this was been bailed out – brrrrr very cold water! Otherwise both Squibs were bone dry in their cockpits and bilges, the winter tarpaulins once again have done a really excellent job. All ready for a sail.
Likewise the new Squib storage box, built by Mike Threadgill last season, was bone dry inside and has protected all our gear and buoyancy aids. Excellent!
Mike and myself , moved onto the Soling, The Winter cover has been removed and taken home by Mike. I found several gallons of rainwater inside the front and centre tanks, but the cockpit floor was bone dry.
We used the whale pump and hose on the centre tank to remove most of the water but had to bail the front tank out by hand! Half a spongeful at a time. A real pain of job as the front tank is so deep – I virtually crawled into it! .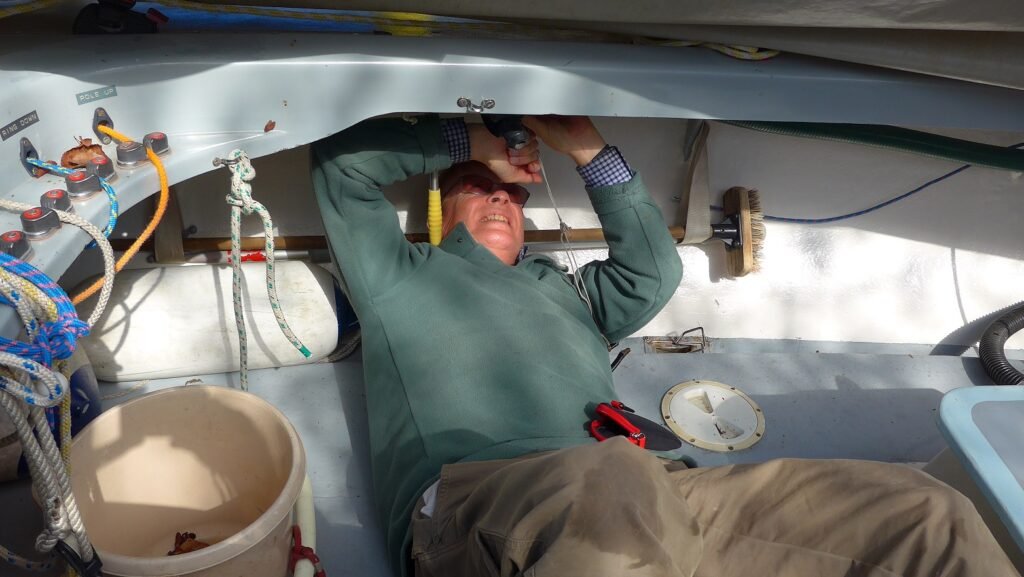 Mike and I decided to reconfigure and extend the existing main hose system and replaced all three tonneau covers.
All in all a good, a good team effort. Thanks to all volunteers for travelling to Rutland and undertaking this important task. The reward would come the next day – sail testing. But that's another post.