Exhilarating! Excellent Exciting! It's never too late to get involved.
"Boy Racers" Mike Threadgill and Dave Grundy, join the Lake Race for Keel boats.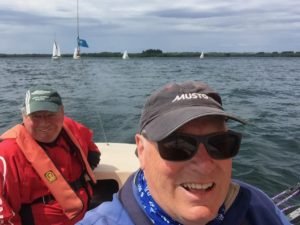 This was our first race and with winds F4-5 and later F5 high (sorry no pictures then, a tad busy) we loved it.
The course started in the southern leg , a broad reach up to the end of the sailing area in a brisk wind, a broad reach which changed to a beat. Boats in front and behind us, up close and not so close.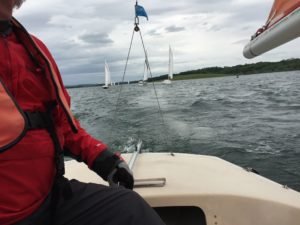 Ready About! Now sailing down wind, in waves 🌊 spinnakers, we did quite well holding our place – working as a team keeping our eyes and ears open (Spinnakers Can make a lot of noise behind us!)
Heading towards the tower, Flying 15s coming towards and passed us, leaving it to port and a jibe to head along the northern leg, taking in bouys along the way to port and starboard- my there is a lot going on, but cunningly we held back so others could lead us through the course 😜
Passed the next tower, wind picking up and veering we headed to the final bout of this leg. To port or starboard? Rob passed it and we decided to follow, then he went round again, the other way and we had confirmation which way to go ready about!! Our tacks and jibes getting better and better!
Fluke winds and we caught up, slipped back, but still in the race.
Heading back to the tower, right turn and wind and and waves picked up. All kinds of keel boats around us racing and heeling in strong winds.
Hang on to the helm Mike, no wusding out! Hold the course.
Along run towards Normanton church , tack and head back up the southern leg, amongst our little Armarda.
We beat up again and the lake got 'lumpy' as the wind picked up.
Round the bouy at the far end of the lake and into a run to the finishing line a mile or so away.
A hoot and we were across the line, we'd finished!
Exhilarating! Excellent Exciting!
Loved our first race! Thanks to all those who encouraged before and on the day from fleet members. We will be back!