When I got home [Friday 19 April 2019] and went into the kitchen and remembered I still had my sunglasses on.
No worries, my specs are in my blue dry bag I thought. After a bit of searching it soon became apparent it wasn't in my big bag or in the car – I'd left it on the boat!
No worries, I rang John CW (who I knew was sailing the next day) and asked him to leave it the box and I'd collect on Saturday 20 April 2010. Never a problem going to the sailing club.
And so it was that I drove in Sunshine, wearing my Sunglasses, and arrived at Rutland Sailing Club about 10:30. As ever, I did a quick visual check of the lake for winds and realised it was very calm.
Best get my bag first before I get diverted. So I opened the box so I could get the ladder out, but no ladder! Where could it be? Looking around, I then realised the ladders were attached to the two boats. I then realised Tony and John must have gone to the cafe for a cuppa whilst the wind picked up. Looking back in the box there was my blue dry bag – which John CW had king put there for me. First things first, put the bag in the car Dave. Sorted!
As I was here, it'd be rude not to pop into the cafe and catch up with the guys and Chris. They were sat at a table near the counter, keeping Chris company – who was serving a steady stream of members.
"Did you get your bag OK?" John said and then went on to explain, he thought my bag was yellow! He'd looked in Satyr but no yellow bag, then got the other steps out and looked in Lift Off, but no yellow bag. Back to Satyr and found my blue bag -phew!! Thanks John.
We had a cuppa and the four of us chatted, with Chris multi-tasking serving customers in between. As I was there, I volunteered to drive the tractor and hence the pictures.
Even though I didn't sail, it was nevertheless worth the trip to RSC – to bump into sailing friends and catch up and help them launch and enjoy Rutland Sailing Club and the view across the lake.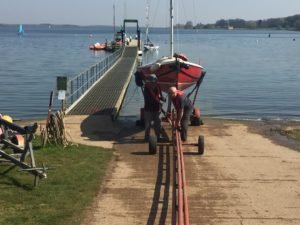 As they say, every cloud has a silver lining if you look for it.