Doing some admin work for our great little club Rutland Civil Service Sailing Club,  based at Rutland Sailing Club and part of the Civil Service Sailing Association, when I happened upon my old Army 'certificate of qualifications'.
Immediately I spotted my sailing training.  It didn't include my Day Skipper taken at Keil Yacht Club in 1975 but did include my Dinghy Sailing course in May 1984 and I was racking my brains of the name of the manmade lake with the Pirat at the far side ( note I could though remember the pub). Praise be Google – I found the Dummersee and was pleased to see that the British Dummersee Yacht Club is still going strong.
My next posting was BMH Hong Kong where I volunteered to be the Unit Sailing Officer and it was my job to take a mini bus full of nurses sailing on Wednesday afternoons -we sailed at Stanley (HK Island) and Gordon Hard (Kowloon side).  Good times!  I also had the opportunity to do a some yachting locally exploring island and inlets – there is far more to see in HK besides tall buildings, busy streets.  We sailed from the Royal HK Yacht Club.  I also had the opportunity to fly to Manilla and spend  10 days 'adventure sailing' in the Philippines in 1986-87, ending up in Cebu having sailed and visited many islands on the way – it was the time when Marcus and Aquino were both aiming to be President and coming in locals would be shouting out whoever they were supporting and we went with the flow and echoed back whoever they were shouting "Aquino, Aquineo"  just as easily as "Marcos, Marcos".
I left the military in 1993 and for a long while didn't sail at all due to studying for professional exams, settling into civilian life and other diversions from what's really important – sailing of course.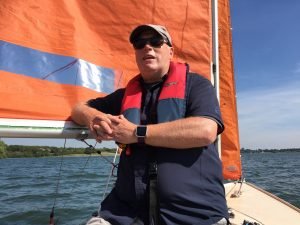 However, circa 2008 I saw this advert for the RCSSC and eventually went for a taster on a keel
boat – and never looked back since. Whilst I had sailed since a boy, my formal sailing started at the Dummersee and aged 65 next month, I am still enjoying being on the water at RCSSC Rutland Civil Service Sailing Club – still sailing in good company.