Sunday 11 July 21 was a very special day – some may say the Euro Cup Final – for Mike and I, as Approved Helms for the Soling, it was our first time taking out Time Flies on our own, this season.
Whilst Time Flies is bigger than our Squibs and there are subtle differences, the basics are the same: Covers off, check for water in the boat and bale if necessary, check the balers are closed for launching. Rig the main and jib, fenders out ready. Make sure the helm is tied off so it remains straight as the boat is launched onto the water later at the jetty. Bow and stern lines are easy to get hold when it comes to launching later.
Get the tracker (good news that both trackers are available again and saves a lot of time) and attach. One man leads, the driver pushes the trailer carefully down to the slip way. Chock the trailer – we don't want the boat self launching itself!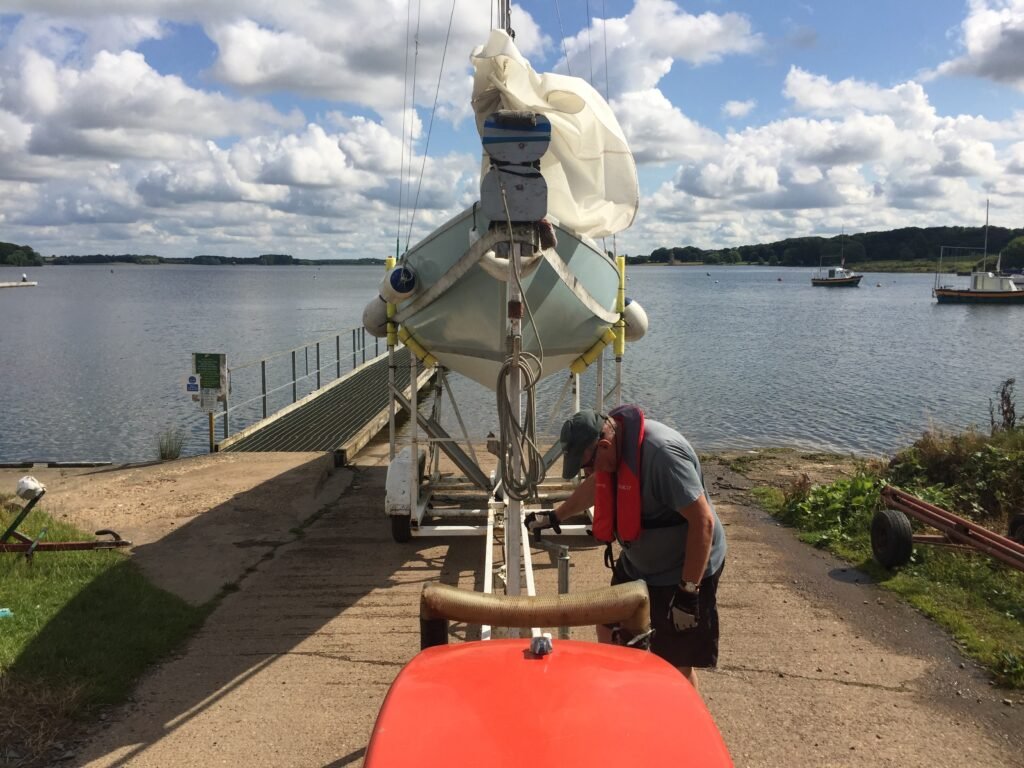 Disconnect the trailer and collect the long extension bar. Connect the trailer to enable the boat to float off the trailer without having the tractor in the water too long.
We just had just the two of us this time, so Mike managed the boat and trailer and Dave the tractor. Practice makes perfect and Mike and I have done this many times and work together as a team. Always communicating and checking-in with one another before moving on to the next task. Sorry no images possible whilst launching.
Chocks removed ready for launching. Stern and bow lines in place (note bow rope on the pontoon side cleat ready to be pulled out as we put the boat onto the water).
The person on the ground gives the sign and and slowly, the boat and trailer are pushed down the slip, the line man holding onto bow and stern lines. As the boat enters the water, the bow line is pulled taut and pops out the cleat, Mike passes it over the front arm of the trailer so the boat is clear to float off. A slight increase in speed to give the boat inertia to float off.
All clear – the line man takes the boat to the pontoon and ties off, returning to the trailer to help stow the long bar and the trailer. The tractor driver reverses the trailer and chocks off the trailer in the mean time.
Long bar disconnected and stowed. Trailer connected and stowed nearby if possible, failing that back in the trailer park. Tractor away. Time for a comfort break before we set off for a sail.
Where's the wind – ensure the boat is laying off the pontoon in the best position to set sail. Raise the sails, check the lines are clear and ready.
Thanks to John Cranwell Ward for all the drills and processes – they work a treat and make it easy for sailing with other members too .