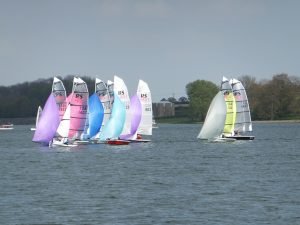 My first experience on a committee boat and I have to admit, despite my sailing experience over the years, I was a tad nervous as my racing experience is virtually non-existent and a long time ago.
As it happens, I needn't have worried.
Thanks to the organisation, briefing  before a during the day.  I was allocated to the finishing boat and our leader, David , was relaxed, friendly and a mine of interesting information which ensured we knew what was going on and our role.  Really enjoyed it and looking forward to today.  The crew didn't know each other before the day, but we  do now.  Good to meet Keith and Sharon and hope to see you around the club.
I took some photos -which give some flavour of the day.
The racing format is very interesting and different from the usual format.
Four classes of RS were sailing RS 400 (two man) RS 300, 200 and 100.  The aim is that everyone races everyone, which is why each class is broken down into 'flights' of smaller groups (I think it was up to 15 in this case, depending on how many were in the class I think – this from memory from the briefing and talking with David our leader on the finish boat).
My role was to spot boat numbers and class as they crossed the line and work with Keith, who was spotting and scribing.  Sharon gave a double check by capturing all the boat numbers as they crossed the line.  A common sense double check post the race before the next race started – within minutes of the final flight finishing the previous race!   This to be repeated 6 time so that everyone has raced each other twice – making it fair and equal opportunity sailing.
Meanwhile, our leader david was making a verbal recording of every boat crossing the line – giving another piece of 'evidence' in the event of any challenges.
It all seemed complex but once we got going, it worked like clock work.
If, like me, you're a little nervous of volunteering for the committee boat and 'all them rules' – don't be – you'll be in good hands and have a great experience.
Back in again today and looking forward to it.  Will be putting on my heavy jacket though – once the wind picks up, and you're standing still, it can get a little chilly.
So glad I joined Rutland Civil Service Sailing Club and to sail at Rutland Sailing Club.