Time Flies – A boat with a story ……
Rutland Civil Service Sailing Club has added to its existing fleet of three national Squibs and has acquired an International Soling. "Time Flies" has been generously donated to the club by long term committee member and Boat Husband John Cranwell-Ward.  John owned and raced this boat for ten years.
1972 Olympic Games – based at Kiel Yacht Club Germany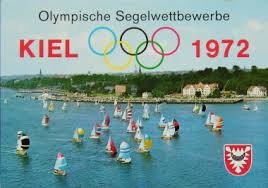 This boat has an illustrious history and was used by the GBR team during the 1972 Olympic Games at Kiel.  The team and this boat were based at the British Kiel Yacht Club (BKYC) on the North German coast for three months leading up the Games.
Kiel Yacht Club and WW2
The Kiel Yacht Club was a private member Yacht Club"requisitioned" by the higher Nazi command in particular Hermann Göringin 1939 and subsequently "re-acquired" by the British Army in 1945. BKYC has mounted images of Hermann Goring, Adolf Hitler and other members of the higher Nazi hierarchy standing on the pontoons admiring their personal fleet of yachts! The yacht club and all its boats were returned to their rightful owners by the British Army in 1946.
The British Army and ECYD Baltic Cruise
The British Army has always maintained a British Forces  yacht club at an alternative site a few hundred metres from today's Kiel Yacht Club.  It is used today by the British Army as an Adventure Centre for British service units and has 12 Halberg Rassy 26 ft yachts with tiller steering, along with some classic yachts from the 1930's in particular a spectacular 100 sq. footer.
East Coast Yacht Division (ECYD) also a CSSA sailing club as is RCSSC,  has often called in at BKYC during their Baltic Cruises and it was on one of these trips that the Commandant of BKYC presented John Cranwell-Ward with a BKYC Burgee to be flown from the crosstrees of Time Flies. The burgee shows "Her Britannic Majesty" in gold on a blue background.
RCSSC and Time Flies
RCSSC is immensely proud of our Soling, a stunning boat to sail. Solings have a raced bred designed hull, keel and rudder and they slide through the water like a hot knife through butter!
What is a Soling?
The Solingis an International open keelboat class designed by Norwegian Jan Linge in 1965 for the Olympic Games. In 1968, against completion from the existing Olympic 12 metre class and after a number of sea trials in heavy weather conditions it outperformed the 12 metre class and was selected by the Olympic Sailing Committee as the official Olympic class three man keel boat. It first appeared at the  XX Olympiad in Kiel 1972 (GER). The Soling maintained this status until her final appearance at the 2000 Olympics.
The Soling is a strong boat designed for any wind and sea condition and is – above all – fun to sail. Fitness and good sailing skills are basic requirements for successful Soling sailing and racing. The boats are a unique one-design originating from an authorized single plug and mould and made of GRP making competition as equal as possible.  The lifetime of a Soling is long. Those produced in the early days still sail beautifully and some are still in competition today.
Present Day Soling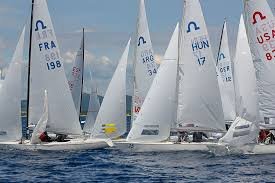 Today the Soling is still a fast, exciting, non sinkable, 8.15 metre, one ton  International One Design racing keel-boat, that is sailed by a crew of three (with no weight limit). Class rules allow droop hiking. The Soling is about the same length as a J80 but only 75% of its weight. The Soling is fast and rides the sea very well because it was designed for Olympic offshore racing. It has a fractional rig with a thirty one foot mast, and uses a symmetrical spinnaker.  Everything is adjustable while on the go on the water. This includes the forestay, the backstay and the inner and outer shrouds. This means that in heavier weather you can flatten the main by putting bend in the mast and you can balance the helm by increasing or decreasing the mast rake as you sail. There is no mainsail reefing.
The great thing about the Soling is that it sails so well. Weighing one ton (1035 kgs) including the rigging and endowed with a "V" shaped racing hull with a very slim racing keel it is very stable and cuts through the sea with ease rather than just bashing on each wave. It is in a pedigree of its own, a great pleasure to sail and admired by all who understand a pedigree racing boat when they see one. However having said that we would only recommend the Soling to experienced sailors. We would not recommend it to novices as it is a powerful boat to handle and becomes a bit of a beast once the wind gets up.
The International Soling Class is still very active. Yearly world, continental and many national championships are organized and well visited. Fleets racing with more than 40 competing boats are no exception. Local club racing is also very popular in the Soling.
 "SOLING LOVERS MAKE BETTER SAILORS".
This slogan was adopted by the International Soling Association in its early days and still applies today. There is nothing quite like the Soling Experience. Sail a Soling regularly and you will become a better sailor, race one regularly and you will become an expert sailor.

The Soling has been raced by a multitude of famous yachtsmen who went on to compete and win around the world in International events such as the Admiral's Cup and the Americas Cup. The Soling has been used often as the boat of choice in international match racing. If you want to make the transition to world class yacht racing, this pocket rocket is the boat for you! It is ideal as a stepping stone to international yacht racing.
Norwegian Yacht designer Jan Linge also designed the Yngling which also became an Olympic class yacht. The Yngling is a 6 mtr version of the Soling in which "Three Blondes in a Boat" skippered by internationally successful yachtswomen Shirley Robertson won Gold for Britain in the 2004 Athens Olympics with a race to spare. Both boat names incorporate the designers name into their title. (Ling) The Yngling was originally designed in 1967 by Jan Herman Lingeto build a keelboat for his young son, and thus he named it Yngling, the Norwegian word for "youngster"

Editors Note:  
Thanks John for this fascination article, on so many levels – which not only reminds us what a stunning and fun boat Time Flies is, but the fascinating story about her heritage.  As it happens, as a member of the British Army, I did my Day Skipper at BKYC in 1975 on a Cutlass, no engine, just sailing!  but that's another story.