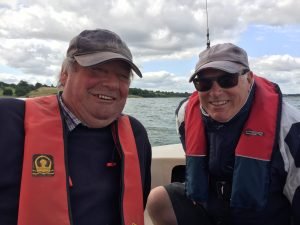 Sunday 20 August 2017 saw, at last, some decent sailing weather!
The morning saw Christine, Mike and Dave G launching Satyr nice and early with the winds picking up to eventually a F3 -F4.  We managed a sail from the South Short across to the Dam and along towards Whitwell, before returning to Rutland Sailing Club (RSC) and then heading up the southern arm of Rutland Water.
We all took a turn helming  and it was great to see Mike Threadgill crewing and on the helm.   Still on light duties but slowly recovering from his op – good news! Chris showed off her sailing skills and confidence as a budding helm too.
Lunchtime and 'all change' Chris joined us for a cuppa over lunch and was replaced by Mark Harrap – who enjoyed a good length of time on the helm taking us across to Whitwell and then beating, close hauled down to the end of the northern leg.   The wind was a tad fickle but we coped with the 90 degree swings and changes in strength from F2 – 3. The final approach saw the wind pick up to a nice F4 and it was with great reluctance, like three kids, we had to stop our fund and return to the pontoon, coming alongside gently so that the crew just stepped off easily.
An efficient recovery saw the boat off in under 10 mins and on her way back to the trailer park.  We spotted the dodgy stem on the trailer which our Boat Husband has since sorted I can report.  We all need to note his guidance regarding recovery and putting the bow line on the stem on the foredeck to allow a straight pull, rather than sideways (which we believe caused strain on the stem and the need to repair).
Having tucked the boat up with everything off the deck and covers tight on an 'A' frame to help keep the rain running off, rather than settling onto the wooden deck, which definitely does not enjoy contact with water.
A quick debrief back in RSC Clubhouse over a cuppa – all in all, another perfect day, sailing in good company.