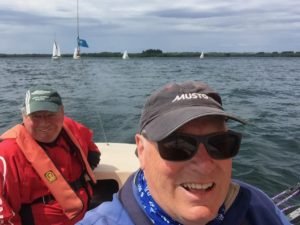 Mike and Dave trail blazed racing for RCSSC by joining in the 3rd Lake Race on Sunday 2 June 2019, a very windy Force 4 – gusting 5 at times. To be honest, we were the first one out and the first one back. This is because we set off from the pontoon for a little taster and soon found the conditions very lumpy and bumpy. So we promptly headed back in and put on the full gear to make sure we were as warm and dry as possible.
The start was exciting with boats all over the place – we decided to follow Rob on Even Keel – we never planned on winning anyway! We really had to work together and keep our eyes peeled for boats, right of way and timings for the start One light, Two Lights Three and we were off!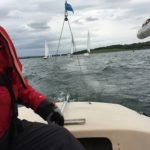 The course took us up to H bouy at the end of the south leg of the lake, back past the Club house through the relevant markers and up toward the south water tower ( a broad reach) and a left turn along the Northern leg of Rutland Water in a zig zag taking us through beats and beam reaches, at a pace. Sailing in close company with Black Magic (Nick) and Even Keel (Rob) and a Beneteau right behind us! In amongst it all the way.
A quick turn (poor Rob had to go round again as he past the bouy on the wrong side) and we were suddenly just behind Rob again and ahead of Black Magic.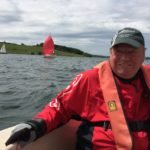 The wind picked up and when we reached the tower at the end, we took on the full force of wind F5+ and lots of waves – Whoop! whoop! We were lapping it up literally, as we found water in the bilges when we put the boat away later.
A quick turn again at the end of the lake and back to the clubhouse and finishing line – 1hour 49 mins actual sailing time adjusted to 1hr 38 mins corrected time and 6th – so we found out today. That'll do nicely thank you.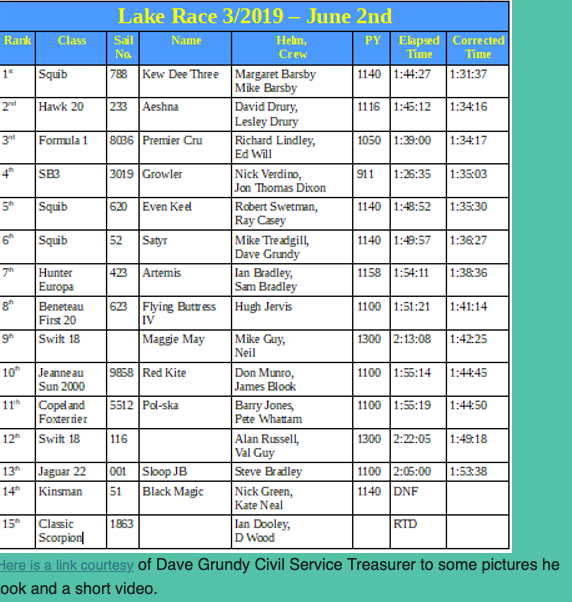 Just to say, all the other sailors were brilliant and very helpful and welcoming. Highly recommended, do get involved.