Thanks to the sterling efforts of Boat Husband John Cranwell Ward and deputy Mike Threadgill – Lift Off  was launched on 1 April 2017 and is tip top condition.
To say it has not been an easy journey, is a massive understatement.
The first challenge was visiting Milton Keynes and checking her and her trailer out -and making her safe for the journey.  This post summary does not do just to the work involved in just getting her back.
She was cleaned  up to enable a survey to identify what was needed doing ( it turned out to be more than 'a lot' but sometimes not knowing the future has its benefits),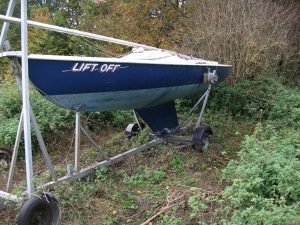 Restoration work was undertaken by John Laxton – who has been a stalwart support and has the skills and knowledge, without which, we could never have refurbished Lift Off.
John has kept RCSSC Commodore Dave Grundy and the committee informed all the way and honestly, it really does read like an epic journey with challenge after challenge to be overcome: storage, rigging, parts and equipment, testing and trialling,  Fixing the trailer has taken hours and hours alone.
This post really cannot relate all that was needing attention and that has happened.  It is exhausting just reading it and seeing challenge after challenge identified and overcome, in one way or another.
In the last week alone, John and Mike have been down at RSC day after day, sorting out rigging, bolts, split and parts I can't even remember the name of; made all the
more difficult since RSC Chandlery closed.  Often donating their own materiel and equipment.
However, we all know that our Boat Husband can be very tenacious – if he says it will be ready for 1 April 17 it certainly will be.  After a week of hard work, tired and exhausted, Lift Off was ready to launch 31 March 2017.
It was only right and proper that John CW and
Mike took her out for her first sail, which went well, though the weather was a tad stormy.  They identified a number of areas that required attention and guess what?  They have already resolved them.
We are indeed blessed to have our Boat Husband team who have worked all Winter on behalf of RCSSC so they can enjoy a sail in our newly refurbished Squib – Lift Off
Like a phoenix – she has arisen and we have  'Lift Off!" Thanks guys